Venezuelan Amazon
On, December 26, 2012, I received the following email from Ender Luis Serrano:
Hola Jon. I'm 41 years old from The Beautiful and Unique Venezuela. I'm a Stand up Paddler.I'm a flexibility and stretching specialist. Love Yoga, Ballet and Contemporary Dance, Taichi, Meditation……….I'm planning some adventures in the Guyana Highlands. Angels Falls area. Is the Venezuelan Amazon. I used to live there…. The Indian Leaders r waiting for me to help them to raise awareness for the environment and Global Water Crisis. I'm ready to hear or learn anything from u Professor.
A perfect stranger, 79 words. That's all the information I had. Thirteen years ago, as I explained in my book, The Raven's Gift, Moolynaut, asked me to "come back" to her village in Siberia, so Misha and I rearranged our lives for the next five years to return again and again. By following that two word request, I changed my life. This email had that same sort of feeling: There was something out there and I could follow, seek, and learn….or hit the delete button. Magic flies past us all the time, but if we don't reach out and grasp it, then that particular opportunity is gone forever. I told Ender I'd join him.
Two months and numerous emails later, after I had bought my ticket, I reread the email string and wrote: Hi Ender: So now that I've bought my ticket and we are going, I am starting to think about what we will be doing. Any advance information you can send me about what we will talk to the Indian Leaders about is greatly appreciated.
Ender responded: On Abril 17th all Captains(leader) Indians of all the whole area we are doing are having a meeting. They spect a letter from me espicifying what this trip is about and why…… So they have to approve it, apart of I'm taking a foreigner. They'd like to provide support along the way with radio comunication and advices for rapids and Water Falls and stuff like that. They are trying to change menthality, from mining to Turismo or so…. So that is what I know so far.
Still not much, actually. But I'm going.
I'll be using a new boat, a TRAK Kayak, which I am very excited about. It's a revolutionary new design, based on the oldest kayak design, a flexible skin drawn taut over a rigid frame. What makes the TRAK so groundbreaking is a sooper high tech fabric; so tough that the TRAK is known as the first and only portable, performance kayak in the world, comparable in performance to fiberglass or composite sea kayaks. One feature that I am eager to try out is the small hydraulic jack on the floorboard. Crank up the jack and it tensions the fabric, which gives the boat rocker for whitewater. Ease off on the jack and the boat flattens out to give the hull tracking and speed on flat water. Ender will be using a Stand Up Paddleboard (SUP). Yes. Good for core strength. And a better view from up there. We'll have to trade off every once in a while.
We are also using Bomber Gear a relatively new and exciting line of boating apparel from my good friends at Confluence, who supplied us with the Wilderness Systems Tsunamis that Boomer and I used on Ellesmere. We fly to Caracas on May 27. Bookmark this page. In about a week, I'll update it with more information about where we're going and what we're doing. Then, in a little over two weeks, we'll be in the jungle. More emails from Ender before I leave OK, here's what I know. We will be traveling in southeastern Venezuela, near the Brazil border, in the area around Canaima National Park and Angel Falls, the highest free-falling waterfall in the world. The area is mixed grasslands and jungle, with tabletop mountains, called tepuis. Due to the near equatorial location and the great elevation range, it is home to the highest biodiversity in the world. It is also home toPemon First Nations People, whom we will be visiting. Again, because I am afraid that I might exaggerate or fabricate a story based on incomplete information, I copy another recent email exchange with Ender:
Ender: I just have 1 question………………….. Do you drink CAFE? The Holly Plant… Haha…. I've arranged ground tranportation from Puerto Ordaz to the area we are going to start…… I can't afford a Charter for now…….. It will a 6 hours drive first day May 28 . Second day the same or prob from Santa Elena Take Cessna o continue on ground for 6 more hours wich we will see and prob decide out there due to big rains……… Texans recommend that we take Guns…. Haha Jon: Guns? Huh? For hunting and eating? Or Bad guys? Ender: Do you consider Cannibals bad guys? I don't….. They're just hungry…….. I hope they prefer white meet(carne). Consider that………
OK, Somewhere in here, we crossed the line from possible reality to definite joking. Where is that line? Personally, I'm more afraid of the resource extraction bandits than anybody else. Look, you can take a tourist jaunt to Angel Falls. But I still don't know where we will be going, what rivers we will be on, and so on. I'm approaching this wary and alert — definitely excited — but not terrified. Enough words. I fly to Caracas on May 27. Next Post May 28 or 29 from Venezuela.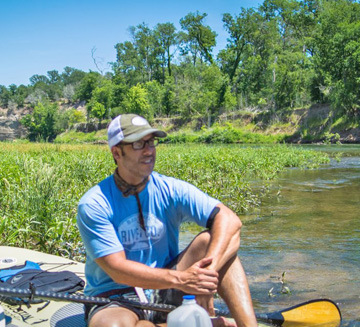 Expedition Blog
This blog will read with the most recent post on top. So if you're entering for the first time and want the whole story, read from the bottom, up. If you've already been following, read from the top down to where you left off.

Tues. June 18
I don´t know how to say this, after all the days and times, running unrun creeks with Andy Zimet in the Ladakh Himalaya, waiting with Boomer for the ice in the Nares Straight, all the adventures in a lifetime. So I guess the truth in the only solution. Ender and I came to a rapid. Big green tongue with a chaotic wave train at the bottom (Class III), or punch the lateral on the left and ride green water to the bottom (Class II). Or a very easy portage on a well worn trail river right. Instead, we rode a motorboat for a day back upstream to fly in an airplane around the rapid. At that point, I quit. Finished. Done. End of expedition. Once on the airplane, take me back. This is too frustrating. I can´t do this. Ender said, "at least we tried." Tried is a relative term, I don´t know what it means. I say, "at least we showed up". And in "showing up" I had a wonderful experience, a learning experience, deep in the jungle. It will take a chapter in a book to really explain what happened out here. So I will go home to be with Nina and write the book: Crocodiles and Ice.
 
Fri. June 14
The chief's wife was an expressive orator, essentially saying that white people can only be visitors here, no missionaries, no miners, no business- "you travel the way we want", basically that we don't want your diseases nor your culture. Jon replied, "I don't understand everything you say, but I understand everything you say." A warrior looking man then gave him a hug, a wordless appreciation.
 
Thurs. June 13
The internet in Kamarata cuts out, so the emails from Jon are like tweets:
raveling slowly. we move until we encounter obstacles and then seek help from someone with a gasoline engine, which is not my normal style of operation. To proceed, we must travel over Pemon Holy Lands. Seeking permission. Three meetings with chief today. Chiefs wife firey. "Tell the world that we are here. That white people are destroying the earth with their pollution. That our land is sacred. That we have nowhere to go."
Tues. June 11
A two day walk brought the guys up onto a savannah into a village where once again they were the first white foreigners. There are trade goods and an air strip, but without the mining the whole atmosphere is different. Yucca bread, fish soup and greens is a welcome change from cola and white flour crackers along the river of miners. Fireflies, lightening, no noise, no electricity. Jon said you half expect a zebra to appear. A very very small deer emerged instead.
 
Sat. June 8
Ender and Jon are in the hospital… No they are just camping in an empty wing of a hospital in Uriman, a gold and diamond trading post. It is taking days to arrange for help to continue on through the jungle up onto the savannah.
Jon ran two rapids on the huge Rio Caroni, alone, with no float bags. He said the Trak kayak was amazing in the huge hydraulics, deep whirlpools and steep eddy lines that would suddenly emerge. Later he hiked with the school kids and teacher into the jungle, climbing up the tepui, which he described as mixed rock-climbing/tree-climbing up a totally vegetated cliff. Weds June 5 Satellite phone call: Jon and Ender flew into Rio Caroni, seeing from the air what extreme kayaker Chris Korbulic wrote in 2011: "these giant cascades falling from the sky", adding "Maybe one day someone will return to run the miles of continuous and unforgiving whitewater in this great natural cathedral." The most dangerous thing that happened to Jon was narrowly missing a rock that was thrown from a riding lawn mower. Tue June 4 email: A huge sweet, soft spoken miner (but could be scary guy he was so huge and muscular,) from Guyana told me that ¨sometimes in life you just get started wrong.¨ Fair enough, I guess we got started wrong. Anyway, we are back in the city of Santa Elena. If we can find a flight today, we will go back into the jungle later this morning, to the Caroni river, and then to Angel Falls Sun.
 
Sun. June 2
We're in Paikupi on the Icabaru river. A quest, a journey, not a vacation. Conrad into the heart of darkness to find greed and concentration of power. Huck Finn to find freedom and view society from the outside. All of that. Mining, mining, and mining. To get to see "Lion King" on TV. To have electric lights, propane stove, refrigeration. To forget how to grow gardens in the tropics (they knew how to do it in 1491). To eat starch, fat, and sugar. Doughnut for breakfast. Cheetos and coke for lunch. To grow rich. Not sure what we will do from here. Possibly fly back up onto La Gran Sabana, into a national park where there should be no mining, but actually may just be less mining. Or more. Who knows. And I definitely feel that I am part of the problem, not actually pumping up river mud because I am too privileged for that, but flying in an airplane or lots of airplanes to write that pumping up river mud is yukky. I think my own journey of discovery might be coming full circle. Not sure that I can play this game that I am playing, or at least in this manner much more. Ok, I could write forever here but have to relinquish internet to 10 year old kids who want to play games.
 
Thurs. May 30
Jon described Vilma's Campamento EkoTuristico Kunabayna as a very wonderful, comfortable, spiritual, Buddhist retreat sanctuary on a savannah with the jungle highlands as a background. Great food. Even the temperature is perfect both day and night, in sun or shade. Tomorrow they will go by 4 wheel drive truck to the river.

Weds. May 29
Good sleep in wonderful guest house in Santa Elena, More information on physical nature of journey. From here we go 5 hours we by 4wd to a camp run by a bioarchitect named Vilma. Then to the put in on the Icabaru river and the end of the road system on the south edge of this stretch of jungle. We paddle down to the confluence with the Caroboni R which is big. Then to a town called Puerta Kukamuku, which is the end of the road system on north edge of this stretch of jungle. Then upstream to Ucaima Tourist camp and to Angel Falls, then back to Puerto Ordaz. wE met with regional council of tribal chiefs foir 4 hours. Changing our route for more holy and beautiful places. They will text chiefs in remote jungle villages to alert them of our journey. I have necklace made by grandmother to protect against jaguars. So dioes ender. Head of chief council has necklace with spare flash drive to protect against memory loss.
 
Tues. May 28
Flights flawless; Customs in Caracas easy; Met Ender no problemo Flew to Puerto Ordaz: Drove immediately to Santa Elena de Uairen in SE Venezuela on the border with Brazil. Haven´t laid down for two days, but slept some sitting up. Very rainy. Jungle. Lots of people seem to be walking around without getting bitten by snakes.